About Us
Von Younger Landscaping was established in 1990. We initially started out doing lawn maintenance only. However, with demand from clients various opportunities were presented to expand our service offerings.
Von Younger Landscaping has an excellent track record of performance. We've completed numerous projects for various local firms. These projects have involved major landscape installation (plants, trees, turf, hardscape, and ornamental furniture), and/or renovation and design, sprinkler system and drainage systems installation and design, as well as volume mowing (tractor mowing), and debris removal. Von Younger Landscaping designs and installs landscape lighting as well as ponds, complete with vegetation and waterfalls. We've also completed many landscape designs and installations for upscale homeowners. Professional credentials held by staff members at Von Younger Landscaping include State of Texas Board Certified Landscape Architect, B.S. in Architectural Engineering, Irrigation License from Texas Natural Resource Conservation Commission, and Drain Pipe Layer license from City of Houston.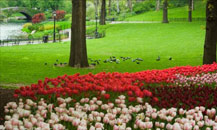 In March of 2006 Von Younger Landscaping was contracted to participate in an ABC Extreme Makeover Project in Sabine, Texas. The turnkey project included irrigation, irrigation lighting, landscape and hardscape design, consulting and installation. Von Younger Landscaping's management was the project manager for all outdoor activities for this major undertaking. As with all Extreme Makeover projects the coordination of all the contractors involved is extremely critical for the success of the project. The time constraints are very stringent. However, Von Younger Landscaping rose to the occasion and performed commendably. The recipient of this total makeover was the City of Sabine, Texas Fire Station No. 4.
Our satisfied client list include, H.I.S.D., Aldine I.S.D., City of Houston, North Forest ISD, Region IV Education Service Center, Gamma Construction, Pepper Lawson Construction, Paison Construction, Drymyalla Construction, Texas Southern University, The Port of Houston, Houston Community College System and a host of other business and homeowners.
Von Younger Landscaping is a member of Houston Minority Business Council, Houston Minority Business Development Corporation, and is registered with METRO Small Business Development and the City of Houston Small Business Development Programs.
Von Younger Landscaping carries Workmen's Compensation Insurance, commercial level vehicle insurance, and general liability coverage and is bondable. We currently service clients throughout the entire Houston Metroplex area, Harris and other surrounding Counties.
Von Younger Landscaping enjoys a healthy relationship with both our employees and our subcontractors resulting in a very low turnover rate.
Sincerely,
Harold V. Younger, Jr.
Owner/Operations Manager